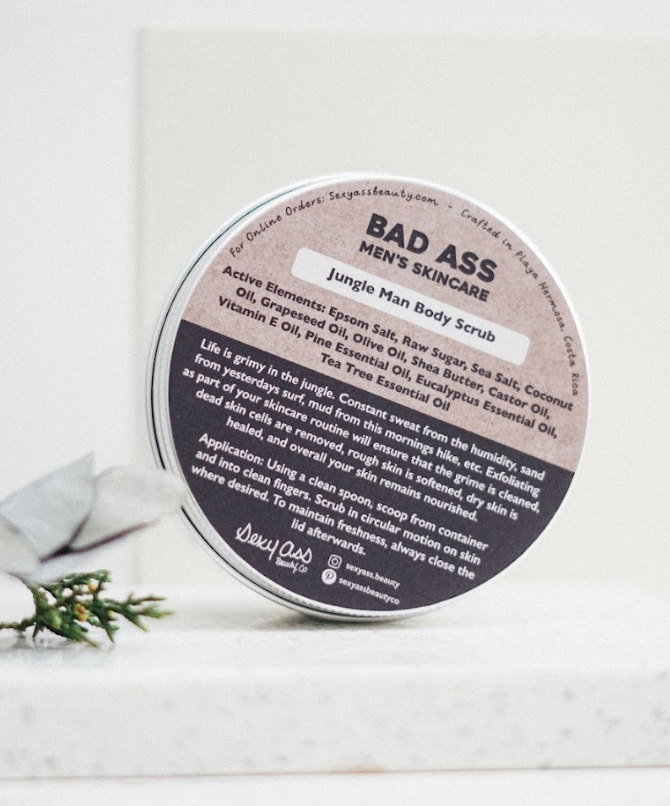 Jungle Man Body Scrub- 250g
Life is grimy in the jungle. Constant sweat from the humidity, sand from yesterdays surf, mud from this mornings hike, etc. Exfoliating as part of your skincare routine will ensure that the grime is cleaned, dead skin cells are removed, rough skin is softened, dry skin is healed, and overall your skin remains nourished.
Packaged in 250g tin.
Recommended Use: 
Using clean hands, apply to face and massage in a circular motion. Rinse afterwards.
Ok to leave for 2-5 minutes before rinsing.
Use 2 times a week.
Active Ingredients:
Epsom Salt: Naturally occurring compound of magnesium, sulfur, and oxygen. Epsom Salt soothes sore muscles, relieves tension, reduces inflammation, removes dead skin cells, and releases blackheads.
Raw Sugar: Sugar derived from sugar cane plant. Raw sugar removes dead skin cells, helps with acne, is high in antioxidants, and is a natural humecant. 
Sea Salt: Salt produced by evaporating ocean water. Contains anti-inflammatory and antimicrobial properties. Helps retain hydration and softens the skin.
Coconut Oil:  Coconut Oil is oil derived from the coconut fruit. When applied to the skin, coconut oil serves as a moisturizer and also helps your skin stay hydrated. It is antibacterial and anti-fungal. 
Grapeseed Oil: Oil extracted from the seeds of grapes. Added for its' moisturizing properties. 
Olive Oil: Oil derived from cold pressing the olive fruit. Olive oil is anti-inflammatory, antioxidant, and antibacterial. It is a good moisturizing agent, reduces signs of aging, increases collagen, and promotes healing. 
Shea Butter: Fat derived from the African Shea Tree. Shea Butter: promotes circulation and healthy skin growth, contains anti-inflammatory and healing properties, conditions, tones, and soothes the skin, is good for stretch marks and scars, and boosts collagen. 
Castor Oil: Oil derived from cold pressing the Castor bean. Castor Oil is anti-inflammatory, antibacterial, antimicrobial, and antioxidant. It is added to this product to promote hydration and overall skin health. 
Vitamin E Oil: Oil derived from Vitamin E. Added to this product as a natural preservative. 
Pine Essential Oil: Oil derived through distilling Pine needles. 
Eucalyptus Essential Oil: Oil derived through distilling the leaves of the Eucalyptus tree. 
Tea Tree Essential Oil: Oil derived through distilling Tea Tree aerial parts. Added to this product for its' anti-inflammatory properties.