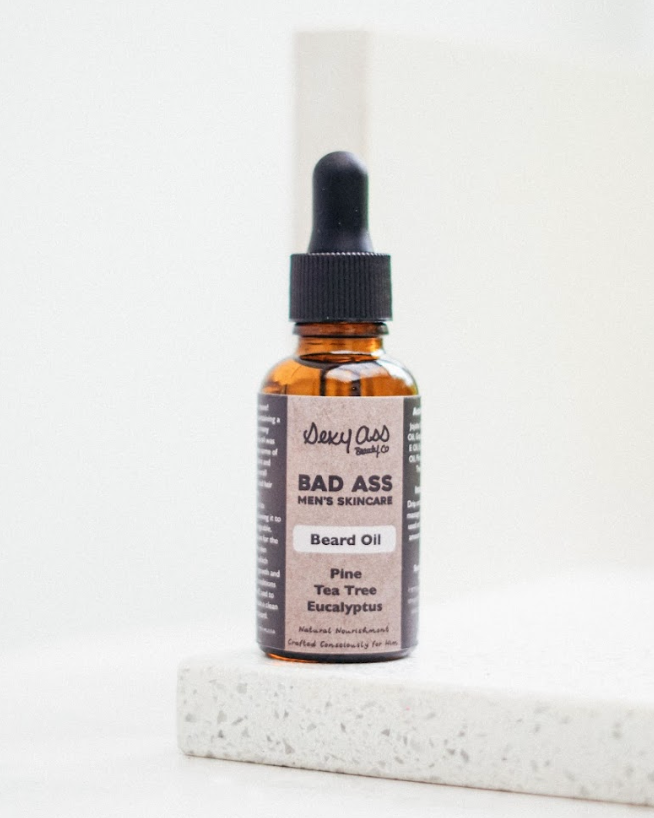 Bad Ass Beard Oil- 30ml
Tame your mane! Growing and maintaining a beard poses many challenges. This oil was designed to ease some of that discomfort and promote overall nourishment and hair health. Use this oil to: soften the hair allowing it to be more manageable, promote hydration for the hair and the skin underneath which encourages hair growth and eliminates dry skin conditions such as dandruff, and to ultimately maintain a clean and healthy beard.
Active Elements:
Jojoba Oil: Liquid wax produced in the seed of the Simmondsia chinensis plant. The liquid wax esters in Jojoba are very close to the sebum our skin produces, which is why it is so compatible with skin. Aside from being moisturizing, Jojoba oil has anti-inflammatory properties that aid in a variety of skin conditions containing side effects such as dry and itchy skin. 
Sweet Almond Oil: Oil extracted from almonds. Almond Oil promotes beard growth due to the protein, biotin, and magnesium that it contains. Highly moisturizing as well. 
Grapeseed Oil: Vegetable oil derived from the seeds of grapes. Grapeseed oil contains linolenic acid which can boost hair growth. It is a natural cleansing agent that helps remove excess sebaceous oils that can sometimes clog your pores and slow the rate at which your hair (beard) is growing.
Vitamin E Oil: Derived straight from Vitamin E. Added to this product to serve as a preservative. 
Eucalyptus Essential Oil: Oil derived from distilling the leaves of the Eucalyptus tree. It thickens the hair, makes the hair soft and shiny, fights dandruff, and prevents hair loss. 
Pine Essential Oil: Oil derived from distilling Pine needles. Helps cleanse the hair through the removal of bacteria.
Tea Tree Essential Oil: Oil derived from distilling the aerial parts of the Tea Tree. Increases hair growth, helps prevent lice, and reduces itchiness and dryness.